The much-loved Vancouver home goods brand has its sights on the U.S.
Reviews and recommendations are unbiased and products are independently selected. Postmedia may earn an affiliate commission from purchases made through links on this page.
Article content
Sundays Furniture first entered the market in 2019, a direct-to-consumer home goods shop offering high-quality, timeless pieces at an attainable price point. With a goal of creating a furniture shopping experience that is "relaxed, easy, and full of good vibes — just like a Sunday morning," co-founder Barbora Samieian along with three close friends managed to do just that.
Article content
To take some of the overwhelm out of furniture shopping, Sundays offers free delivery on all items within Canada plus free assembly of all large items in your home — a service often offered with a hefty price tag. Each item comes with a two-year warranty and the option to see, feel and sit at the company's showrooms in Vancouver, Toronto, and most recently, Calgary.
We spoke with Samieian about Sundays' conception, her favourite pieces, the brand's commitment to slow furniture and their expansion into the U.S.
Interview with Sundays' co-founder Barbora Samieian
Q: Who are you?
A: I'm Barbora — co-founder of Sundays, entrepreneur, and mom of four.
Q: What made you start a furniture brand?
A: I founded Sundays with three of my closest friends (Sara, Moe and Noah). We all have a background of some kind in retail and design, and we all have young families. As parents, we knew we needed furniture that would last, in both design and durability. We wanted something that looked good but would stand up to everyday use (and kids). We found that there was an overwhelming amount of choices on the market, and couldn't find a place that was easy to shop with quality designs, and attainable. An idea hatched and we started meeting every Sunday morning, and it grew from there. 
Article content
We launched our company in 2019 with the goal to make it easy and enjoyable to create a space you love, which is still the intent behind everything we do, from our design process and curated collection to our decision to provide free delivery on every piece.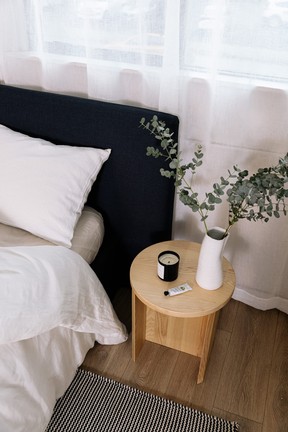 Q: What are some of your favourite pieces?
A: The Field Stool and Get Together sofa are two pieces our family loves. With four young children, we wanted a sofa that could accommodate our family of six comfortably, but also look beautiful in our open-plan condo (our living room is our living room, family room and playroom all at once!). 
The Field Stool is one of those timeless, multi-functional pieces that is at times an extra seat for a dinner party, an end table or nightstand. It's been moved around our home from nursery to living room to dining room.
Article content
Q: Why Sundays over other furniture manufacturers?
A: We pride ourselves on doing things differently. We want the furniture shopping experience to be relaxed, easy and stress-free — which is why we provide free delivery on our entire collection to all provinces of Canada and the continental U.S., regardless of size or price. 
We also provide free assembly on large pieces and take away the packaging. We're very considerate with our approach to product. Every piece in our collection is carefully chosen and designed, using beautiful and durable materials, with features that make life easier. We keep our selection small, focusing on multi-functional pieces that work together and fit a wide range of spaces. Instead of making you sift through hundreds of options, we curate a handful of really good ones.  
Article content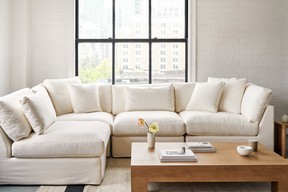 Q: What is Sundays doing to support the sustainability movement?
A: We believe in the whole lifecycle of a product. High quality, natural materials and multi-functionality are integral to our philosophy. We truly believe in reducing our environmental footprint by creating furniture that is made to last, with durable materials and timeless designs that stand the test of time. 
We love the principle of "fewer, better things" in contrast to fast furniture, and we develop pieces that are easy to repair, maintain or refinish. Many of our pieces are crafted from Forest Stewardship Council and Rainforest Alliance Certified wood and our rugs are all GoodWeave Standard certified. We are working to reduce our use of packaging foam — a staple in the furniture industry — by 90 per cent over the next few years.
Article content
Q: What other brands do you love and why?
A: Janaki Larsen Ceramics — local, hand-made ceramics, my morning coffee tastes better from one of her mugs, and any of her pieces are a beautiful addition to a coffee table or counter.
La Bomba Floral is an inspiring floral shop both for the unique stems, but also for the stunning space (Chinatown, Vancouver).
Q: What's next for Sundays?
A: We recently opened Seattle and Calgary showrooms. We also have a pop-up coming to New York City this summer. We're very excited to continue to grow in both Canada and the U.S. and to continue to stay true to our vision of curating timeless, yet current pieces that make furniture shopping feel relaxed, easy and full of good vibes — just like a Sunday morning.
Check out all of Sundays' offerings here.
EXCLUSIVE: Vitamix introduces FoodCycler turning food waste into plant food

The best soundbars to enhance your TV's sound
Shopping Essentials is a new category that features highly researched products, new and exciting launches or behind-the-scenes info — learn more.
ltaveroff@postmedia.com