Reviews and recommendations are unbiased and products are independently selected. Postmedia may earn an affiliate commission from purchases made through links on this page.
Article content
The family that owns this attractive home in suburban Toronto were facing a situation that's increasingly common: parents who are seeking to downsize, just as their offspring are ready to move up to accommodate a growing family.
The wife of the younger couple had grown up here and had many happy memories of the house. So a transaction was made: the young family bought the house, freeing the parents to happily move on to condo life, and turned the house back into a family home.
Article content
There was only one problem: the home, which had been part of one of the first earliest planned developments in the Woodbridge area in the early 1980s, was very much a product of its time and in need of updating. They turned to architect Frank Di Sarra of FrankFranco Architects, to bring the house into the  21st century while maintaining its family spirit.
The main floor featured a regular layout of similar-sized rooms built on a 12-foot-wide grid that suited the structure of the house more than its inhabitants. And despite a lovely setting that backs onto a ravine, it had almost no relationship to the outside.
Also typical for its type and age, the front door opened onto a giant foyer and staircase, impressive but not very practical. "It was a quintessential family home of its day, with a well-proportioned but quite traditional layout. (The) grand staircase was pretty much straight out of Dallas," Di Sarra chuckles.
He sensed immediately that what was needed was to open the house up and let in some light, but the underlying structure — all those 12-foot-wide rooms — could not be departed from entirely. Still, even with this mandate there was plenty of potential.
Article content
First on the to-do list was what he calls a "forced move": to get rid of that giant central staircase, and move it to one side. "It's a big gesture that basically affects all later ones," he explains. Placing open-riser stairs to the side not only freed up the whole central part of the main floor but enabled him to add a big two-storey atrium for the stairwell, flooding the house with light.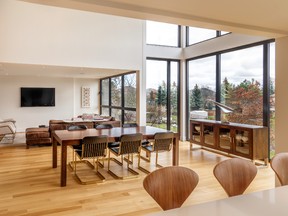 Where the staircase had been, there is now a comfortably proportioned foyer backed by a wall faced in Nero Assoluto marble. The wall is open on either side, and pierced by a double-faced fireplace; interior fireplaces are something of a favourite with Di Sarra. "I like to place them on inside walls, since it's actually often warmer, and they can serve a structural as well as an aesthetic purpose. Or as here, they can offer a sense of connection with other rooms."
In the centre of this relaxed space is seating provided by movable nesting tables custom designed by Di Sarra's firm. They're sturdy enough to sit on and take your boots off and lightweight enough to pick up and move around as needed.
Article content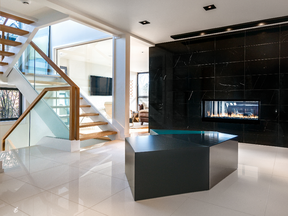 With its open sides and the "window" of the fireplace, the foyer wall feels more like a prelude than a barrier. The visitor is invited to advance either to the left or the right. There, a surprise awaits: the house opens into a bright, expansive space with a dining area at centre, kitchen to the right and family room at left, bathed in light and a leafy view from big black-framed windows all along the back wall. In the centre, the space rises up and back a full two storeys, virtually extending it into the garden.
It takes a minute to realize that the original, orderly progression of rooms is still there, but the feeling is entirely changed. Now, instead of feeling separate from one another, these three centres "borrow" space from each other, almost but not quite like one large room. This was on the family's wish list, particularly in the kitchen: the husband, who is an enthusiastic cook, wanted as he cooked to feel connected to other family members, who might be in the family room across the way, sitting at the dining table or the kitchen island stools.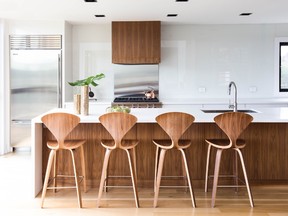 However, they're still discrete rooms, each with its own mood and purpose, cozy but not enclosed. The trick is the ceiling heights: on each side of the soaring atrium and its glass-walled extension, they step down to a more humane eight feet. Di Sarra believes that in many cases, excessively high ceilings — themselves a relic of the eighties, by way of Victorian houses — are overrated. "Sometimes, big nine- or 10-foot ceilings can feel cold and cavernous. They're hard to light properly and the proportions can be off."
Article content
Equally striking is the use of materials that soften the room's hard surfaces: glass, black steel window frames, white walls. "I'm not always a fan of white, white, white," he says. "Just like high ceilings, it can be cold. But if you combine it with tactile materials like stone and wood, it can feel clean and simple. In a family home, it's important to stay in touch with a sense of the natural and the authentic."
As Di Sarra points out, the renovation may have brought the home forward by four decades, but the spirit of a big, friendly family home came right along with it.
"I think the family connection is the biggest success here," says Di Sarra. "We've maintained the genesis of the house as a family home, and yet made it right for a new generation. From the fireplace — a hearth that connects the entryway with the rest of the house — to the conjoined rooms and the way it addresses the garden at the back, this is a home that's about togetherness."