Look forward to watercolours, florals and mix-and-match prints
Reviews and recommendations are unbiased and products are independently selected. Postmedia may earn an affiliate commission from purchases made through links on this page.
Article content
Summer is often an explosion of colour and prints in the home space, and this year is no exception. Postmedia sat down with Ikea Canada's director of home furnishings and design, Carmen Ciesielski, to hear about the materials, patterns, colours and designer collaborations we can look forward to seeing this season.
Article content
Watercolours, florals and mix-and-match prints
Article content
Nothing says summer like florals and watercolours; this summer, we see these in home decor in soft, neutral colours contrasted with decorative textiles, which have a nostalgic and peaceful feeling, says Ciesielski.
Some examples at Ikea are their Vinteriberis and Lonnhostmal duvet covers, and Sackmal curtains.
Romantic florals are also making an appearance, says Ciesielski. They've released a new Strandmon slip cover, which can give new life to an old (inherited) or new wingback chair. Making small changes that reflect the season we're in can have a big impact and make us feel more at home.
"Mixing and matching old with new is an easy, affordable way to make a difference at home and make the most of your space," she says.
Article content
Vintage furniture trending
Vintage furniture has become increasingly popular in the last few years, with people wanting to add unique and timeless pieces that add character and style to their homes, says Ciesielski.
This trend ties in nicely with the fact that Ikea is about to celebrate their 80th anniversary with the launch of their Nytillverkad collection, "a limited edition tribute to iconic Ikea designs from the past."
This collection is about getting back to their roots, which is unique, simple, functional and playful design, says Ciesielski.
We are most happy when our homes reflect who we are
Since 2014, Ikea has released an annual Life at Home Report, which is the result of chatting to people around the globe about how they're living at home and some of the things they're facing — like the rising cost of living.
Article content
Through this research, they've found that Canadians who believe their homes reflect their personal identity were far happier than those who didn't.
"Home is a place where we can devote time to our interests, express ourselves and invest in our own well-being. A place to be calm, centred and uniquely ourselves," says Ciesielski.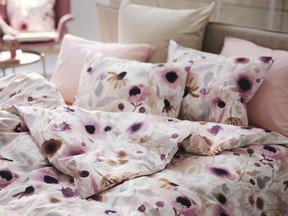 Summer star
Ikea's key print designer this summer is Swedish pattern designer Emma Prowse.
She used "fluid and spontaneous characteristics of watercolours to create the patterns on Vinteriberis and Lonnhostmal duvet covers, Polartag and Sackspinnare cushion covers and Sackmal curtain," says Prowse.
"My inspiration often comes from the things that I have around me every day — my neighbourhood and the nature that I see every morning and evening while I walk the dog. I love interpreting the shapes and colours of plants, trees and stones and floral patterns," she says.
Article content
Prowse also designed the print for Ikea's Elljusspar rug, which contrasts fresh, light colours and dramatically different darker tones, adding a rawness to the design.
"I hope this blend of edgy and pretty will be cherished and long-lasting in people's homes," she says.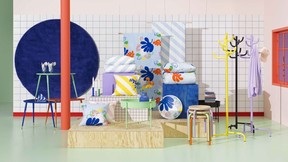 Conscious collections
Ikea is releasing their Mavinn collection this summer in partnership with seven social businesses across Asia, including Classical Handmade Products based in Bangladesh, Ramesh Flowers in India, Saitex in Vietnam and DoiTung in Thailand.
This collection includes 20 handmade items: baskets, rugs, a lampshade, an apron, bags, cushion covers, a wall organizer and others.
"Every item has the distinctive look and rustic feel of a handpicked item, blending colourful splashes with natural materials through embroidery and woven designs where their handmade nature gives its uniqueness," says Ikea designer Paulin Machado.
The Home Front: Creating your own outdoor sanctuary

The Home Front: Dyson releases latest clean tech products