Front porches are one of the first things people notice when approaching your home. Given that aesthetic curb appeal has only increased in importance over the last few years, making a front porch look expensive is getting higher on our home renovation priority list. 
Front porches shouldn't, however, take up much of our reno budgets. With some clever tricks, you can make the exterior of your house look expensive without spending a fortune on it. 
Here, designers have suggested the top ways you can make a front porch look expensive for less. 
How to make a front porch look expensive 
Changing up your front porch doesn't have to involve knocking down and rebuilding. Instead, decorating a front porch a little differently and adding a fresh lick of paint can help to create a whole new feel with the existing features. This is a lot less likely to upset local housing committees, too.   
1. Use planters to add color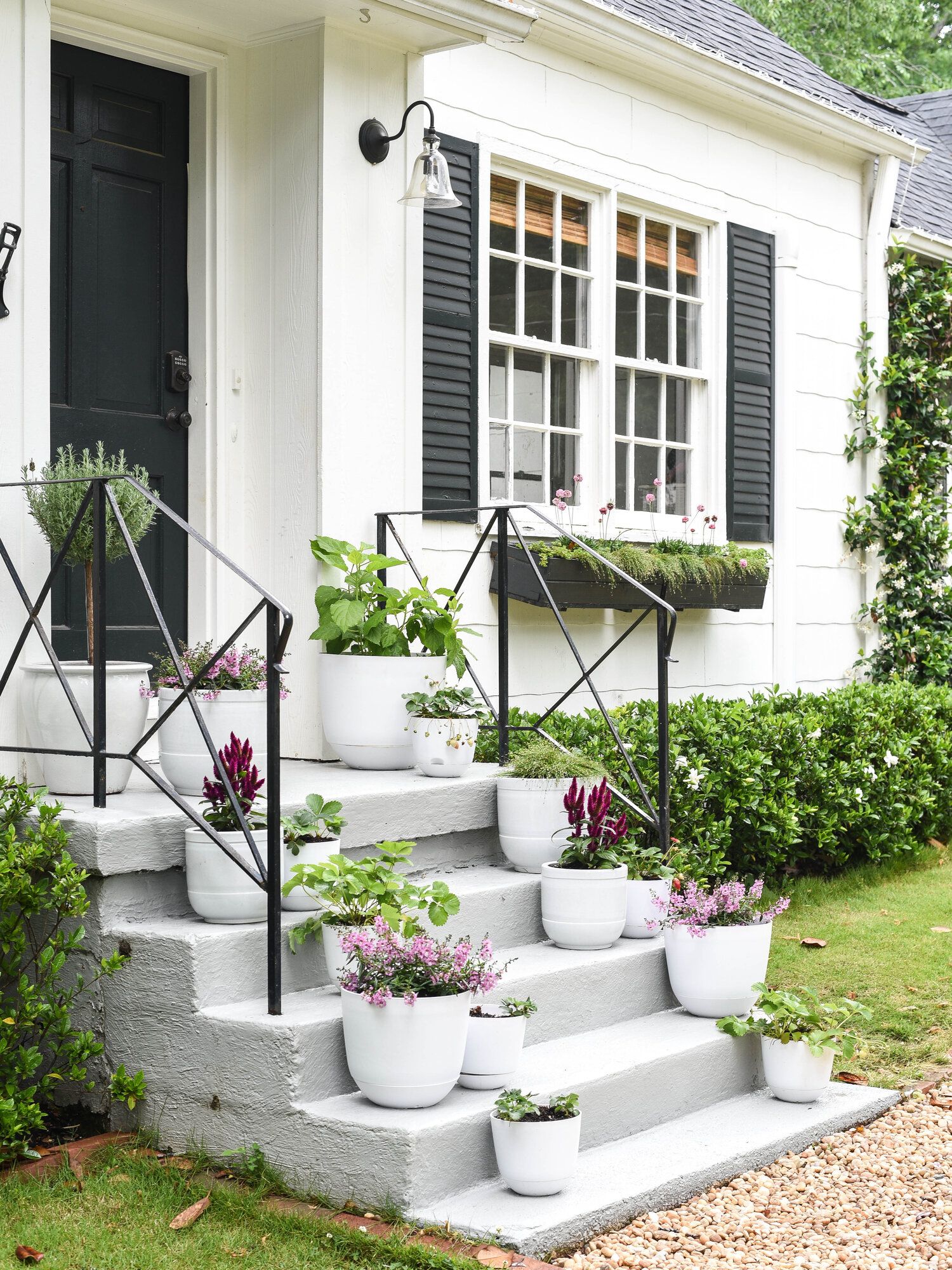 One of the simplest ways to upgrade the look of your front porch for less is to add some outdoor planters with brightly colored, well-manicured flowers. 'Use planters to layer several well-chosen plants. To keep your porch from looking generic, arrange your outdoor planters and urns on varying levels (such as placing a few on the porch and a few on the stairs),' suggests Raquel Kehler, interior designer behind the home blog and interiors store, RoomCrush (opens in new tab). 
'Be sure to vary the container sizes and keep the planters in groupings of odd numbers for balance too,' she adds. And, avoid faux plants – real, well-cared for plants are what's needed.
Raquel is the designer behind home blog and shopping destination, Room Crush. Once rated one of the top 30 studios in Vancouver, Room Crush became a dedicated homes shop and blog in 2018.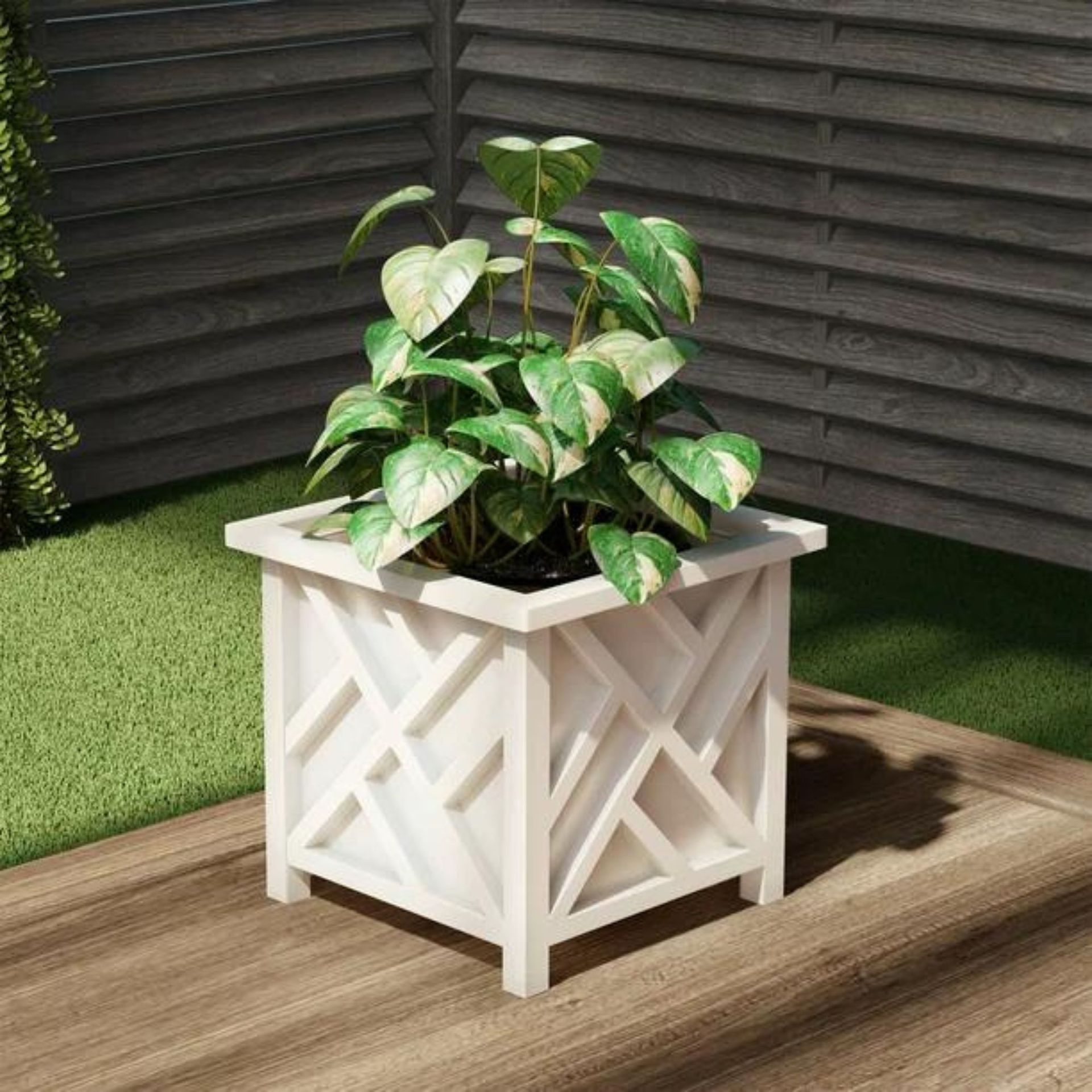 (opens in new tab)
This polypropylene planter container box is strong enough to hold up to the weather outside.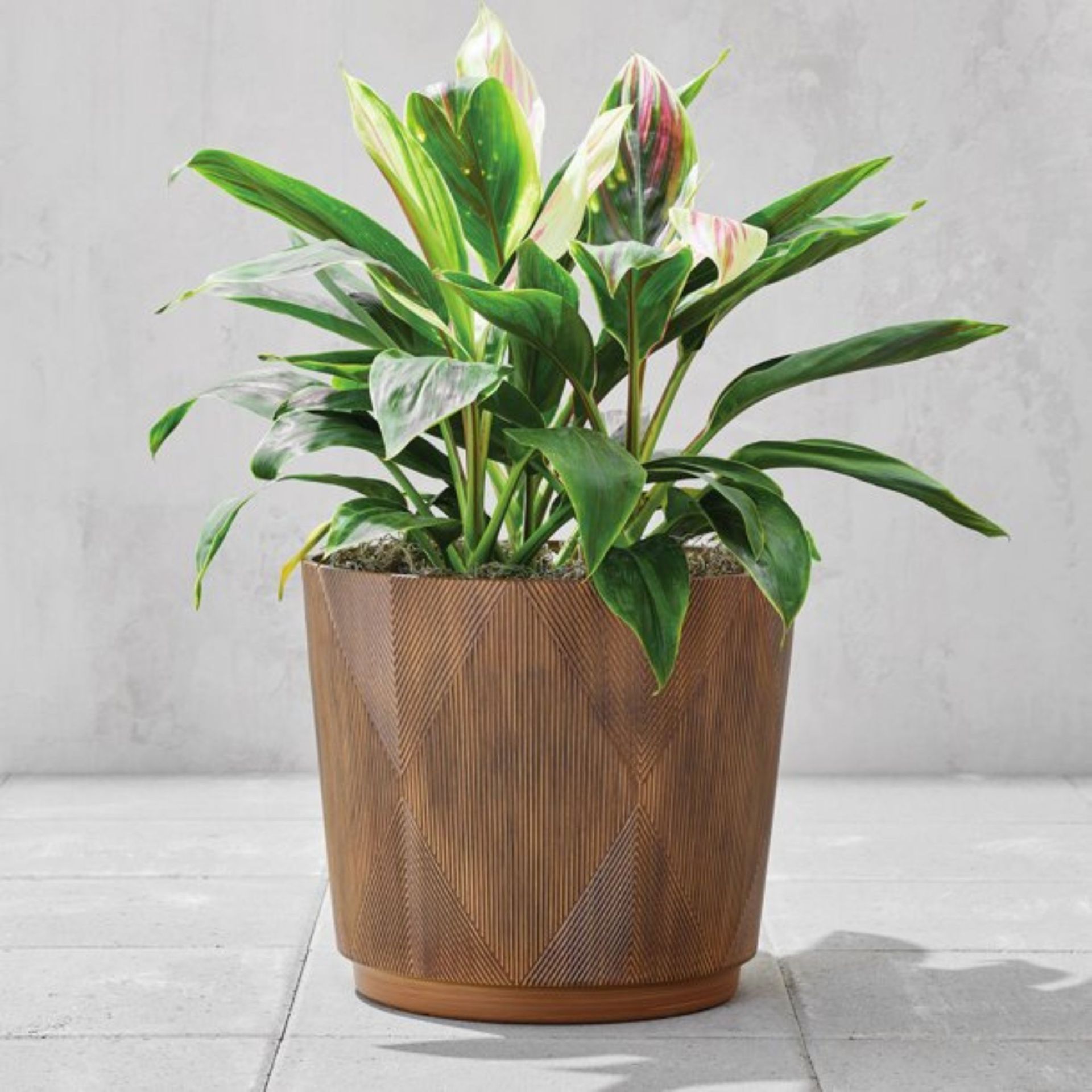 (opens in new tab)
Hudson Brown Resin Planter
The Hudson Resin Planter is a beautiful and durable, planter for all your plants.
2. Repaint your porch to give it new life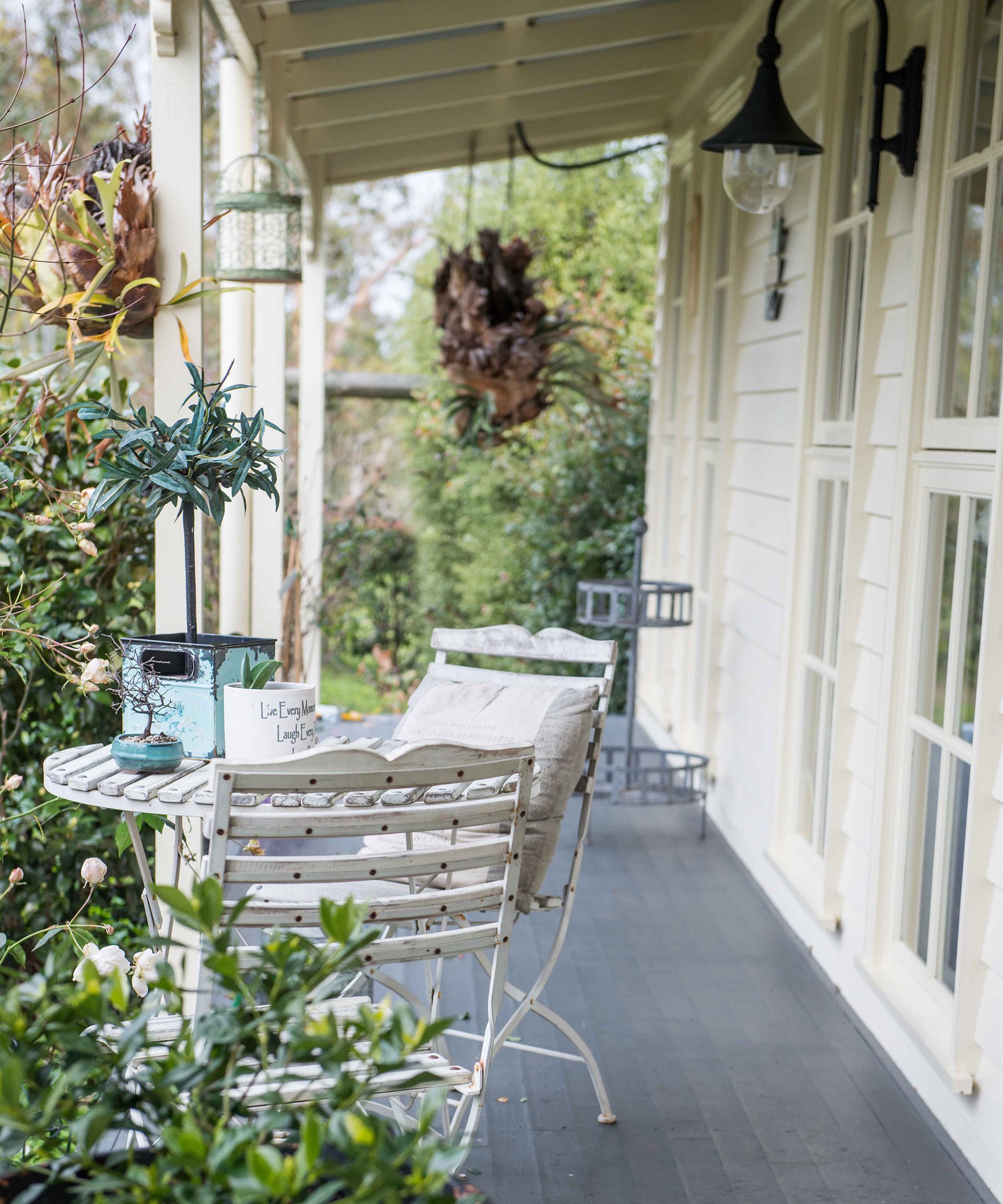 There isn't an easier or more cost-effective way of making a porch look expensive than giving the area a fresh lick of paint. Consider some new porch paint ideas, or simply touch up your front door colors, to help make the space look new. 
'A high-quality paint in a timeless color can perform wonders in upgrading the appearance of your porch,' says Artem Kropovinsky, founder of NYC interior design studio, Arsight (opens in new tab). 'Consider painting your front door in a contrasting hue that immediately grabs attention,' he suggests. 
Artem Kropovinsky is the founder and principal designer of Arsight, a NYC-based company that specializes in residential and commercial spaces. With over 10 years of experience, Artem has a reputation for creating cutting-edge designs that incorporate the latest technologies.
3. Frame your door with window boxes or hanging planters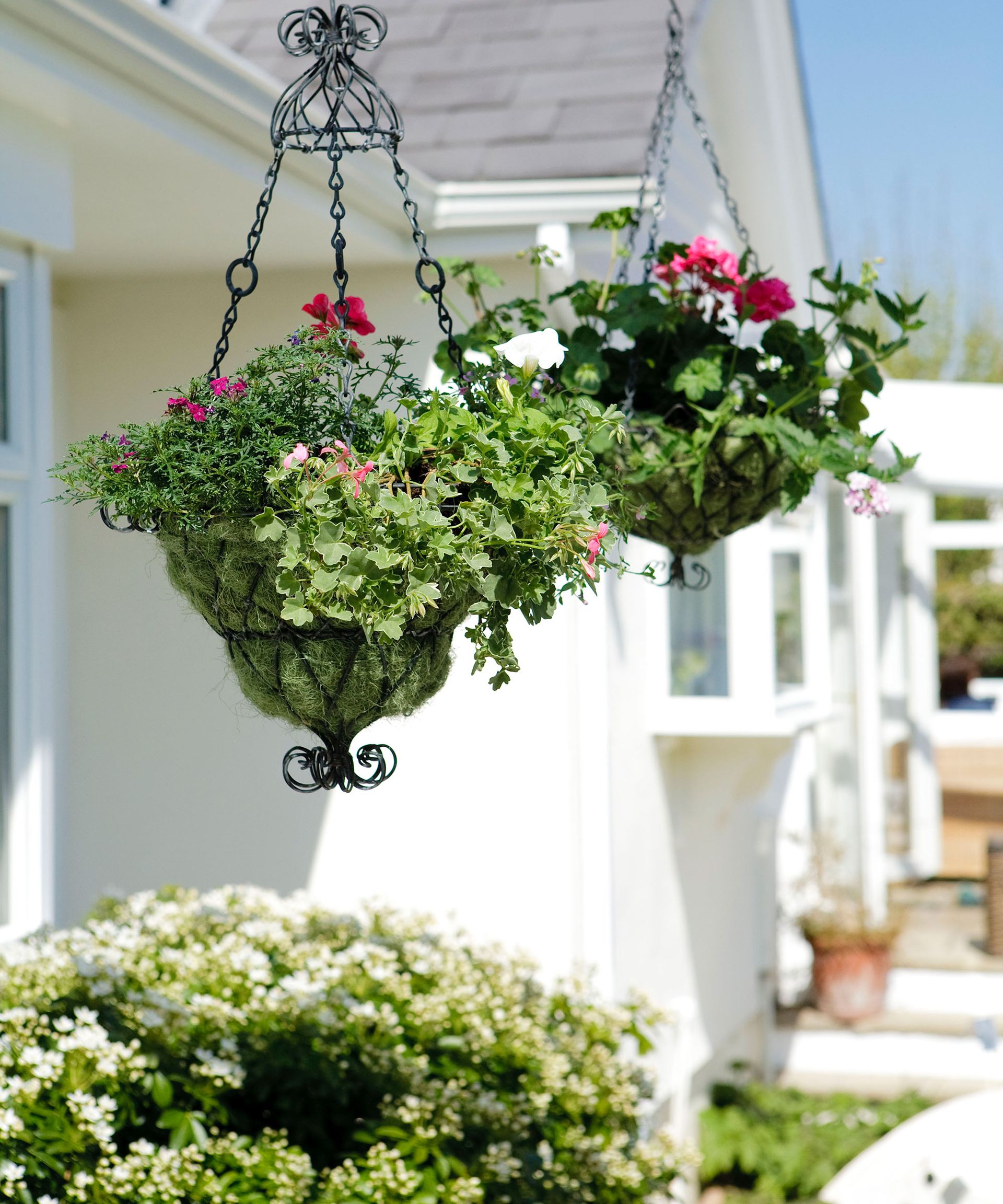 If you do not have the porch space to be adding large, varying planters, then window planter boxes or plants in hanging baskets framing your front door can add some life and color with a smaller footprint. 
'For show-stopping window boxes, focus on flowers that pop from afar and plant a variety of colors (as long as they work with the exterior color of your house),' Raquel Kehler recommends. 'This can make a big difference if the exterior of your house is painted in a neutral color like white.' 
4. Refinish decking and stairs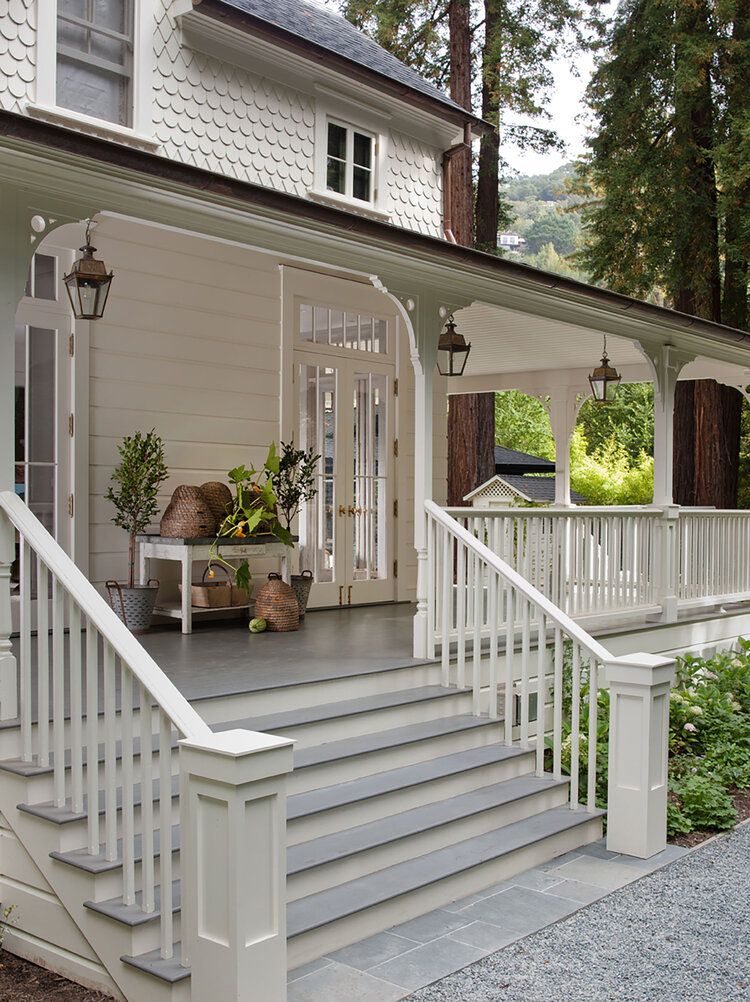 'Another great option to enhance the look of your porch is by refinishing any wooden decking or stairs,' explains Artem Kropovinsky. 'By sanding and staining the wood, you can achieve a rich, textured appearance that adds depth and warmth to your space.' 
When refinishing your front porch railings or decking, consider a range of deck colors and deck edging ideas to match your front porch to your home's exterior, and interior, aesthetic. This will make it look more cohesive and thus more expensive for less than rebuilding the porch completely. 
5. Improve your lighting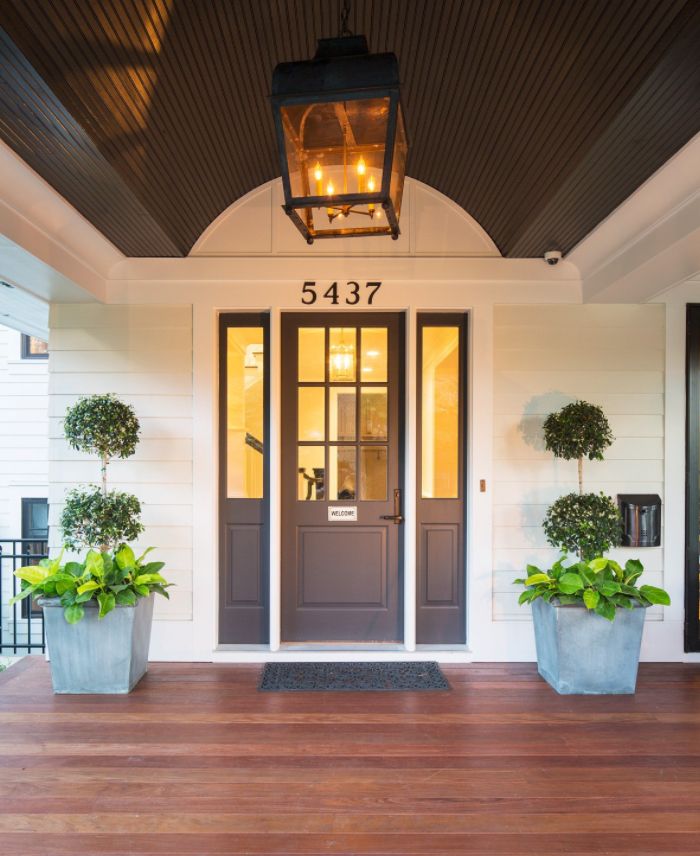 It is all well and good to add new elements to make a front porch look expensive, but if you can't see them properly come nightfall they might as well not be there at all. Investing in your front porch lighting is a must, both for the look of your porch and for security. 
'Lighting is a crucial element when it comes to creating an expensive-looking porch,' Atrem concurs. 'Consider investing in a statement-making light fixture that complements the style of your home.'
6. Add a new house number plate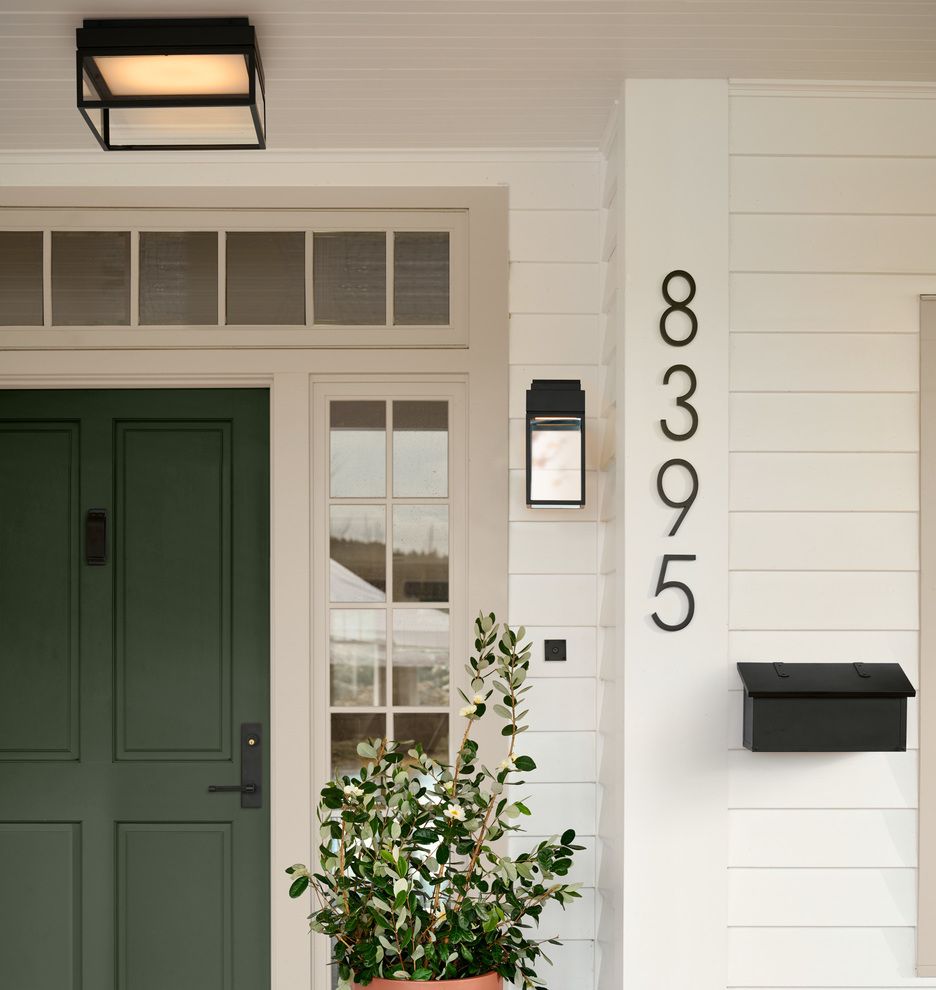 A new house number plate can make a surprising difference to the look of your front porch. If your house plate is looking a little run down, is wonky, or does fit with the style you are going for, then getting a new one from stores such as Etsy (opens in new tab) can add a personalized touch to your front porch for very little. 
7. Add outdoor furniture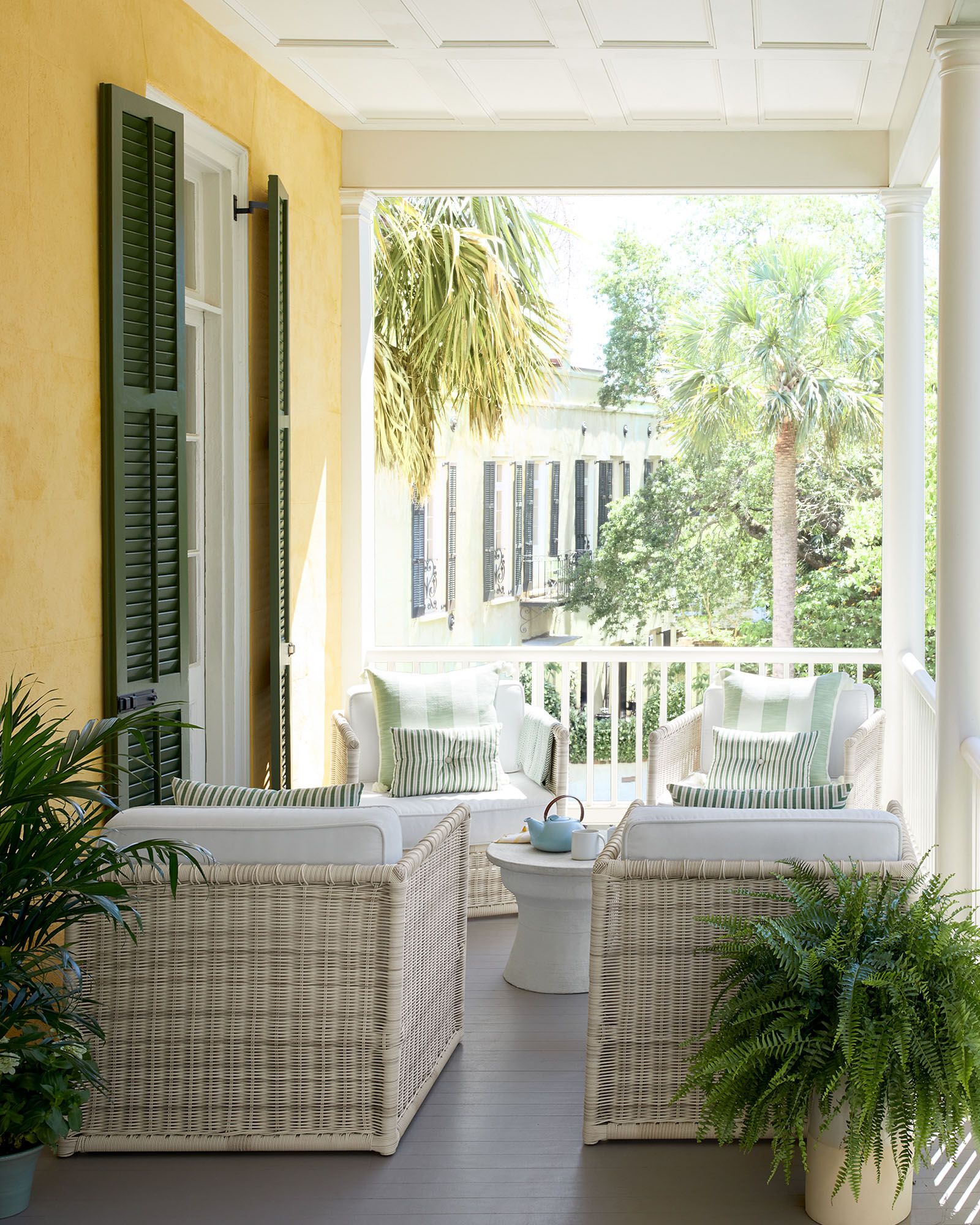 If your front porch is large enough, then adding some front porch furniture can offer a convenient spot to sit to take off muddy shoes, enjoy some late-afternoon sun, or entertain and chat with neighbors. 
'Incorporate outdoor furniture that mirrors the decor of the rest of your home,' suggests Raquel Kehler. 'This creates a cohesive look, and you can instantly elevate your outdoor furniture by adding coordinated cushions and a chic throw for warmth.'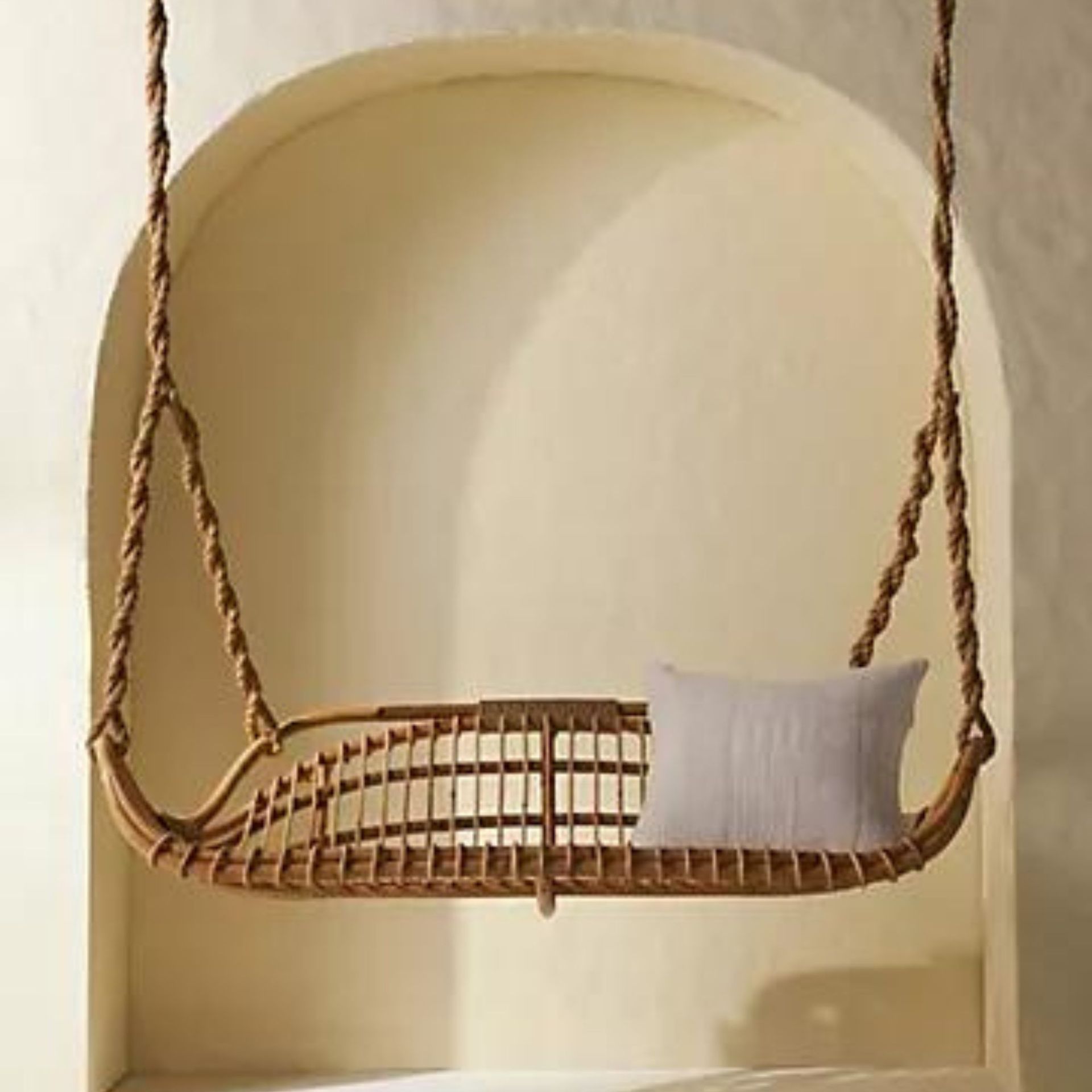 (opens in new tab)
Whether hung in a sunny living room or on a breezy patio, this bench makes a charming spot to curl up.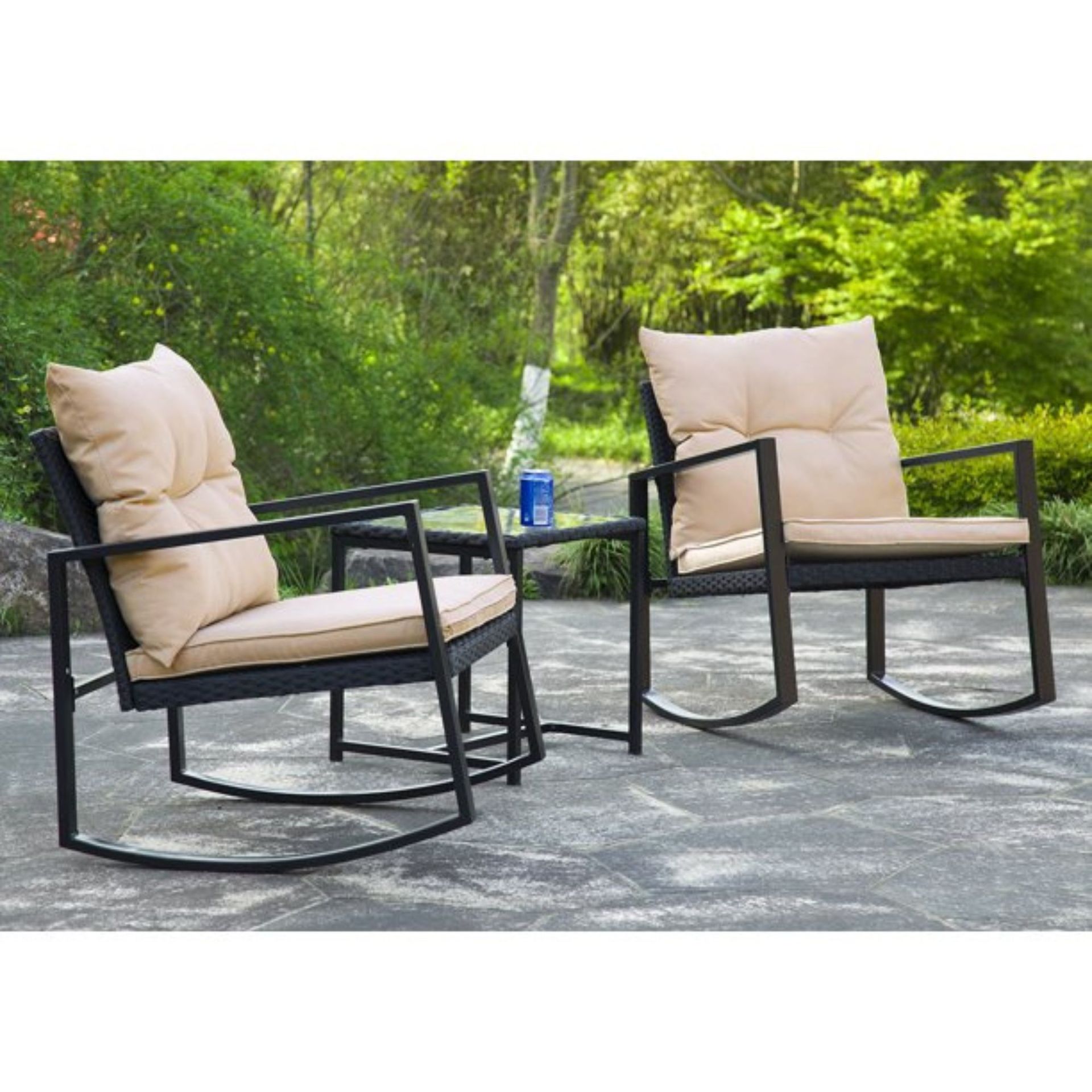 (opens in new tab)
3 Piece Wicker Outdoor Set
This simple wicker rocking chair set would make an excellent addition to a small front porch.
8. Include a rug to soften the space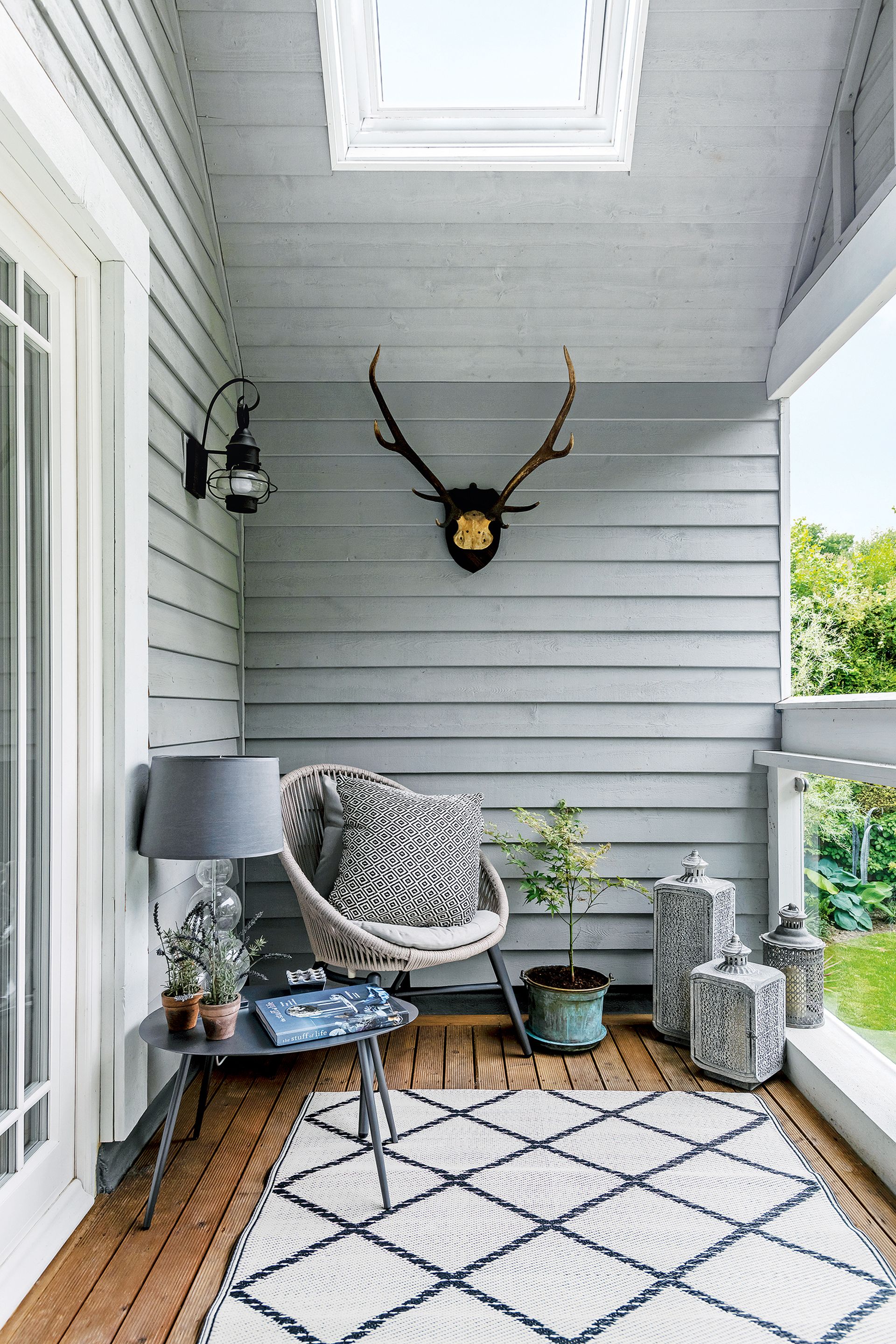 'Outdoor rugs are a great way to spruce up a boring space and give it a bit of color,' suggests Isabel Runsewe, CEO and designer at Isy's Interiors (opens in new tab). 'I like to layer rugs – and often have a plainer larger rug with a more colorful one layered on top. Make sure you go for an outdoor rug and don't go too light in color as this just won't stand up to wet weather over time and start to look dirty,' she recommends. 
British born and raised Isy spent the first ten years of her career working at Christie's and Sotheby's in London before relocating to New York in late 2019. Faced with an incredibly new and exciting city Isy decided it was time for a change and in 2020 (mid-pandemic) decided to start Isy's Interiors, and follow a life long dream of pursuing a career in interior design.
9. Upgrade your porch columns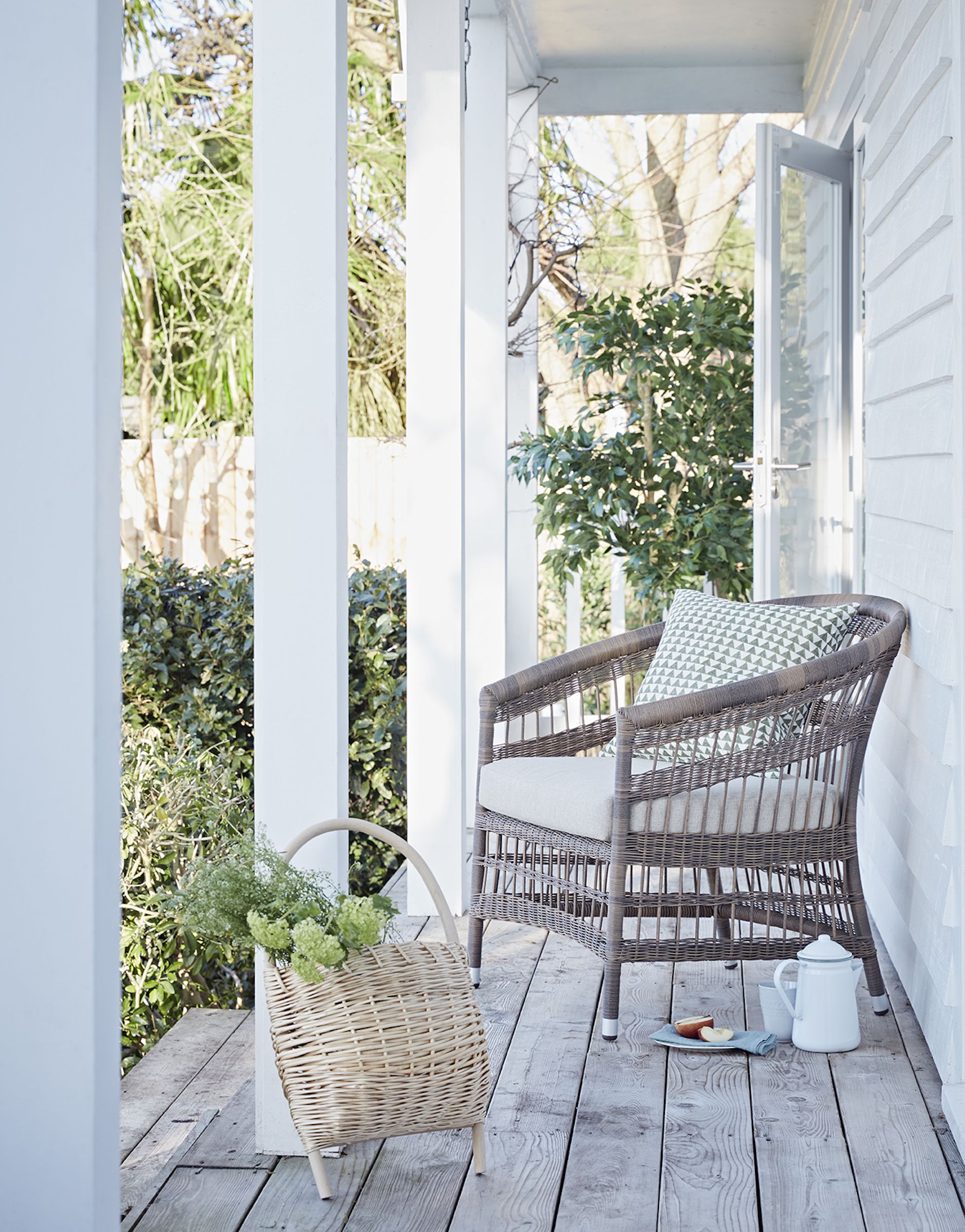 Changing up your porch columns doesn't have to involve ripping them out. Instead, you can upgrade your columns with either paint, or even a column wrap to change up their appearance without the high construction bills. 
'Upgrading a front porch using PVC Column Wraps is an excellent way to enhance its appearance,' says Kriss Swint, director of marketing communications at Westlake Royal Building Products. 'Column wraps can enhance a front porch by providing a fresh and updated look that can improve the curb appeal of the home. They can transform the appearance of plain and unattractive columns or poles, adding architectural interest and visual appeal.' 
When using wraps of any sort, always consider having a professional apply the wrap for you to prevent unsightly bubbles or tears, or peeling edges that would instantly devalue your porch and make it look cheap. 
10. Give your porch a clean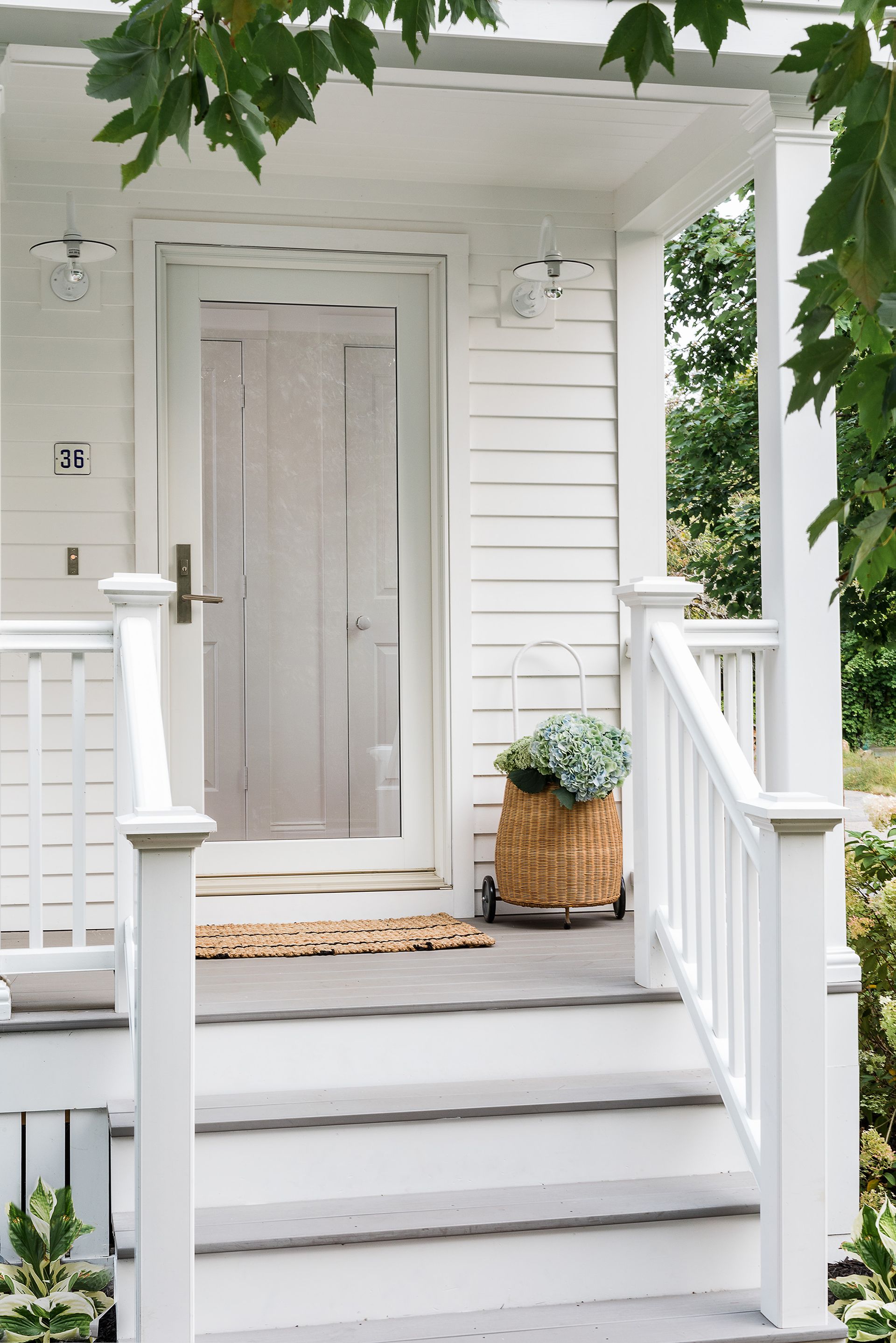 'It sounds simple: but clean it!' says Isabel Runsewe. 'A freshly swept porch or jet washed deck looks dramatically different. After jet washing, I'd always suggest a sealant after. This can be applied using a six foot long paint roller and it's almost like food for the deck and makes it look amazing! I recently did this to our patio in Brooklyn.' 
FAQs
How do I make my front porch look more welcoming?
A simple way to make a front porch look more welcoming is to include some porch furniture for resting or removing shoes, and some well-manicured planters at varying heights to fill the space with life. Adding some nice soft glow porch lighting will also make the area look cozy, enticing your guests in and impressing your neighbors. 
How do I make my front porch stand out?
The best way to make your front porch stand out is to paint your front door a bright or bold color. Using a saturated hue, or a deep jewel tone will instantly draw the eye and give your home some personality.