Reviews and recommendations are unbiased and products are independently selected. Postmedia may earn an affiliate commission from purchases made through links on this page.
Article content
If social media is any indication, farmhouse and rustic décor aren't disappearing anytime soon.
The two styles came first and second, respectively, in a recent survey by RubyHome Luxury Real Estate. It tracked top home design trends based on the number of Instagram posts featuring them.
Article content
So, what are these styles, exactly, and why do homeowners love them?
If you're a fan of HGTV, you've likely seen a lot of farmhouse-style makeovers in the last decade. These homes feature elements such as shiplap panelling and large, comfortable sofas. In the kitchen, you might find open shelving, a few navy or muted green cabinets, and gold, black or brushed-brass hardware.
Article content
"It's very comfortable, family friendly," says Kate Davidson, founder of Kate + Co Design Inc. in Oakville, Ontario. The Ottawa-raised designer predicts the trend is far from over. "I think the farmhouse style is going to stay for the next five years."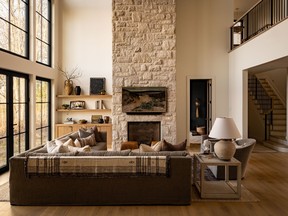 "It's easy to digest this style," agrees Sascha Lafleur, co-founder and principal designer at Ottawa's West of Main Design. Farmhouse is also quite adaptable to a wide range of housing types, she adds. "People can imagine it in more of a builder-grade house."
The other leading style trend, rustic, highlights natural elements—think beamed wood ceilings and stone fireplaces. It incorporates textiles such as cotton, linen, canvas and wool, particularly if they're textured. Earth tones and weathered pieces add to the rustic feel, but don't think of this as a log-cabin vibe. "Rustic has taken on a bit more of a sophisticated look," Lafleur explains.
Because it often requires substantial custom woodworking and stonemasonry, this style can be time consuming and expensive to achieve, she adds. "It's beautiful, but it's hard to source." In Ottawa, homeowners may need to hire specialized artisans from beyond the city to create the rustic elements they want.
Article content
No matter what décor style you choose, keep your home's basic design in mind when embarking on a full-scale overhaul. "A big factor is the environment, the space you're working in," says Davidson. If you live in an industrial-style loft, a traditional look like farmhouse might not be for you — no matter how trendy it is.
"You purchased that home for a reason," Davidson notes. "Accentuate what you already have."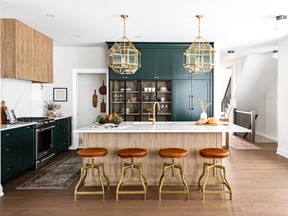 Instagram photos often feature entire houses decorated in a particular esthetic. If you're not up for that level of renovation, can you still bring a bit of farmhouse or rustic style to your décor, simply and affordably?
Yes, say both designers.
Limewashed walls are a quick way to bring a farmhouse feel to any room, says Lafleur, noting that there are lots of videos online to help homeowners achieve limewash paint's signature cloudy, dreamy look.
Davidson says kitchens can get a quick farmhouse-style refresh with elements such as brushed-brass cabinet hardware or new pendant lamps. "Light fixtures make a big statement."
Although farmhouse and rustic were the top two trends in the Instagram survey, other styles also made a strong showing.
Article content
In third place was neutral, which is pretty self-explanatory.
Next came hygge, the Danish-inspired look that could best be summed up as "Scandinavian cozy." And rounding out the top five was shabby chic, a 1980s trend that has been updated for a new generation but still features such elements as vintage furniture, pastel tones and chalk paint.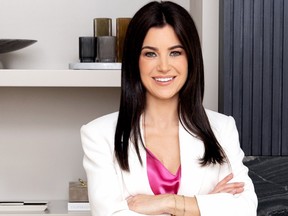 These two warm styles share some elements. Lafleur notes that reupholstering a single chair in bouclé can quickly bring a hygge or shabby chic vibe to a room, depending on the other elements of the space.
No matter what style you choose, here are a few overall trends to keep in mind.
Warmer tones are in Say goodbye to harsh whites and cool greys. Beige and cream are on the rise. In fact, contrasting baseboards and wall colours are becoming passé, says Lafleur, with many homeowners opting to paint both walls and trim the same colour. As for floors, she's seeing more people re-staining light wood in darker shades, such as chocolate and mahogany.
Classic is still, well, classic Checkered floors, for instance, are still very popular. However, there's now movement toward smaller penny tiles to update the look.
Finally, both designers note that while a cohesive style is important—"You need to commit," says Davidson—it's wise to avoid a look so stylized that it feels more like a hotel room than a home. They urge homeowners to incorporate treasured items such as rugs, pillows and personal mementoes into their chosen style to make it truly their own.
As Lafleur explains, "It's really important to tell your own story throughout the house."