From children's' rooms to wood flooring, get your spring project off on the right foot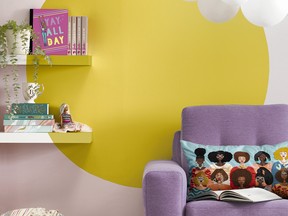 Reviews and recommendations are unbiased and products are independently selected. Postmedia may earn an affiliate commission from purchases made through links on this page.
Article content
'Tis the season …
Article content
For those of us who are taking on decorating or renovation projects, late winter is the time to start planning so you can get started as soon as good weather arrives. I receive a lot of decorating questions from readers needing advice for projects.
From wood floors to kids' rooms to bathroom tile, I've pulled a few of your dilemmas and offered my design solutions.
Q: In lieu of travelling this March break, we are giving my daughter Quinn a bedroom redo. She's 10 years old (going on 15) and wants a grown up room although she still plays with dolls and needs storage for toys. Any ideas?
A: One of the easiest and biggest impacts you can make in a child's room is with paint colour. Preteens tend to love fun, poppy colours that remind them of childhood, but want their room to function like a grown-up.
Article content
Furnishings such as a reading corner, desk, and an adult-sized bed will give them a feeling of "all grown up" and allow their room to grow as they age. Invest in better furnishings that can grow up with a child but keep the budget low on decorating accessories as the room's stage will last only a few years. A twin canopy bed (or a double if room allows), a patterned floral rug, bookshelves to display favourite toys, fun bedding and matching drapes will create a dramatic makeover.
Want to have some extra fun? Paint the ceiling a colour other than white — a soft blue or chartreuse green. And don't forget an oversized bulletin board to display magazine clippings, calendars, and all her favourite photos that can evolve with her interests and social life.
Article content
Q: I hope to start renovating my bathroom this spring. I really like the look of the creamy travertine stone. Is it durable enough for a busy family bathroom?
A: Travertine stone has had a resurgence. It's last big heyday was in the early 1970s and as home decor colours go from cool greys to warm beiges, travertine fits perfectly into the new decor trends. This warm, beige trend will stick around for at least the next 10 years so take comfort it will be a good investment for your renovation.
Travertine can be porous and have natural veining crevasses so once installed, it should be sealed; making it impervious to water and staining. Technology has allowed porcelain and Dekton surfacing to get the look of travertine yet it is much more durable and easier to work with than natural stone. And here's a tip: other finishes in your bathroom should be influenced by the colours of the travertine. When choosing a tub, toilet and sink, choose a warmer white — the cooler whites tend to look cold and grey when placed alongside the beige tones of travertine.
Article content
Q: I've purchased a pre-built condo and next month have an appointment to choose the finishes. I am most concerned about choosing the wood floors. I don't want to make a mistake that I will have to change in a few years. Which wood and stain colour will work best?
A: There are a few considerations when choosing wood flooring. Firstly, what style of building will your condo be in and what stain colour will suit best? For instance, if it's a low-rise with arts and crafts inspired architecture, then a cherry wood floor would be suitable. If it's a converted church or historical building, oak floors are probably best. If your condo is contemporary, I suggest a less grainy wood such as walnut or maple.
Now for stain colour considerations: The most common stain colour which designers choose is a walnut stain. It tends to be the most common brown which will create a neutral backdrop to the many things you will layer in your home. Stay clear of the trendy greyish stained oak flooring — run from this popular builder option. Greyish stained wood is hitting a 10-year popularity peak and its starting to decline in popularity. Stick with a warmer, brown-based colour and it will last you for years to come.
Do you have a decor dilemma? Follow and contact Karl on Instagram at @Karl_Lohnes.