trekandshoot/Shutterstock
Organization can be a true art form, making our homes work better overall. Everything flows when your personal items are in their specific place, which is true in every space in your house, including the garage. According to The New York Post, a garage that has been cleaned up and organized makes it so you can actually fit your vehicles in it when needed, like after a winter storm. Plus, you'll be able to locate seasonal items like holiday decorations so much easier — and who wouldn't love that when it comes time to decorate your abode?
Per ExtraSpace Storage, taking your garage's inventory, cleaning and decluttering the area, and rearranging the layout can be a game-changer in creating a space you can use properly. You just may be surprised at how much you didn't realize you could do to make it work for your family, giving you the tools you need to locate items in a snap. So, if you're inspired to make the moves to organize your garage, whether you do it during a weekend or at your own pace, keep scrolling because we found 20 budget-friendly tips to maximize the space without breaking the bank.
1. Get rid of clutter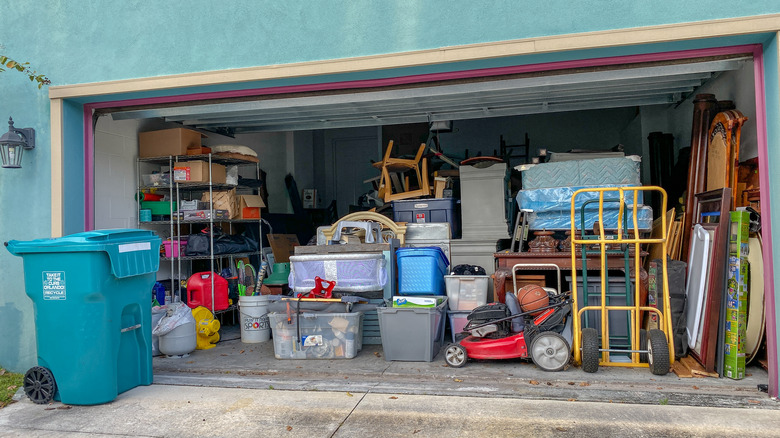 Joni Hanebutt/Shutterstock
First things first: You'll want to clear out all of the clutter, which is basically a free way to begin organizing your garage. Start to go through your personal items, and make three piles. One with items that you will throw away, one with things to donate, and one with stuff to keep.
2. Place items in canvas bags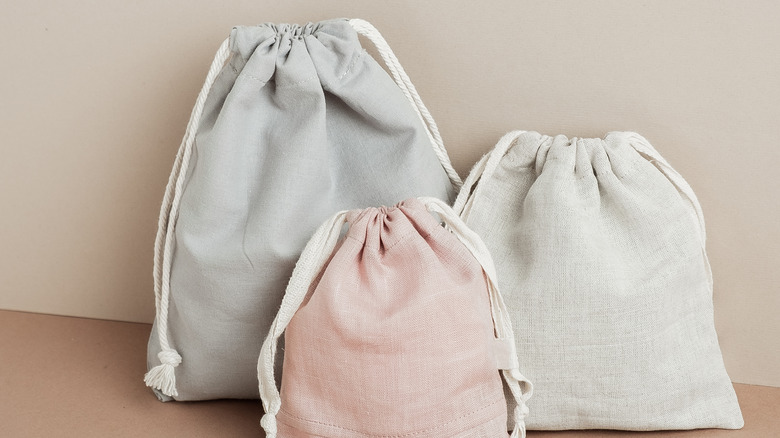 soul_studio/Shutterstock
Think about storing your Halloween and Christmas decorations in a canvas bag rather than a massive box. This is not only good for space but it also wards off rodents and keeps your items away from dust and other debris.
3. Use wall hooks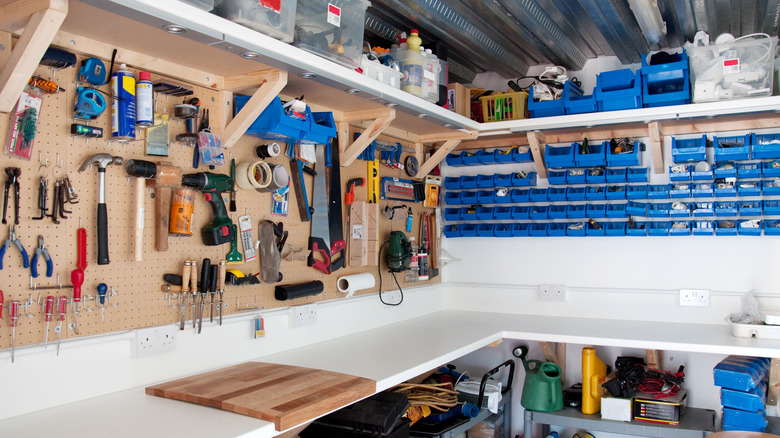 Cmspic/Shutterstock
One major design tip to love is making use of your wall. Purchase some sturdy wall hooks to hang garden tools, bikes, and other bulky items you want to get off the floor.
4. Display items using a pegboard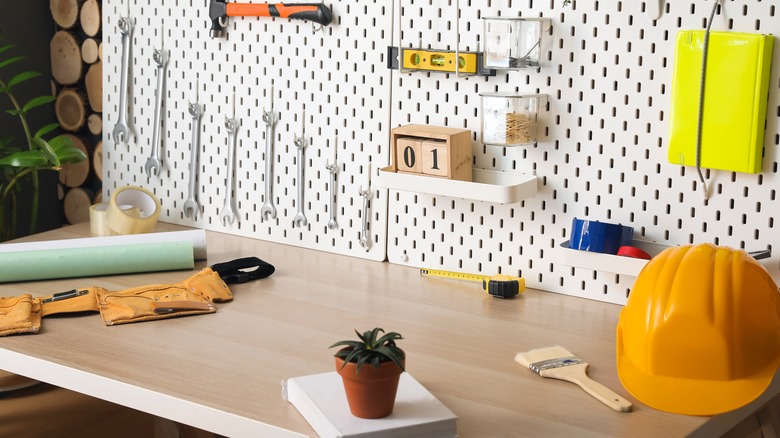 Pixel-Shot/Shutterstock
A great way to organize your tools is by installing a pegboard. Depending on your needs, you can consider a pegboard in different materials, such as wood, plastic, and even metal. There are essential things to look for when using this option for storage, including durability, appearance, and how easy it is to install.
5. Create shelving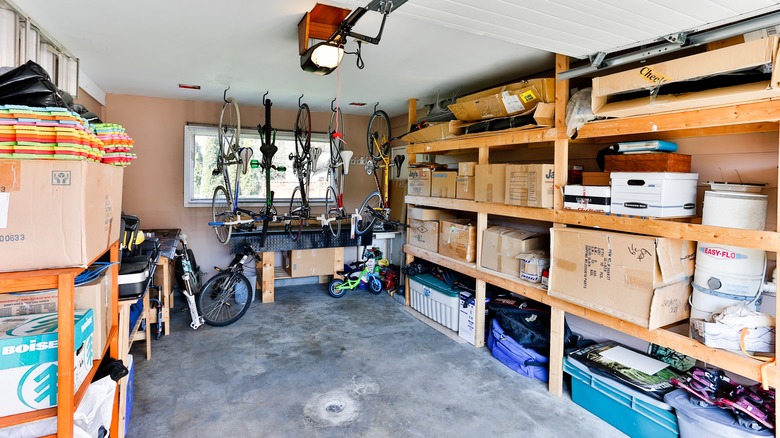 Nalidsa/Shutterstock
Installing shelves is an excellent way to store your important items in the garage while making use of that precious wall space. You can even use the space on the ground floor for larger storage items. 
6. Be sure to have storage cabinets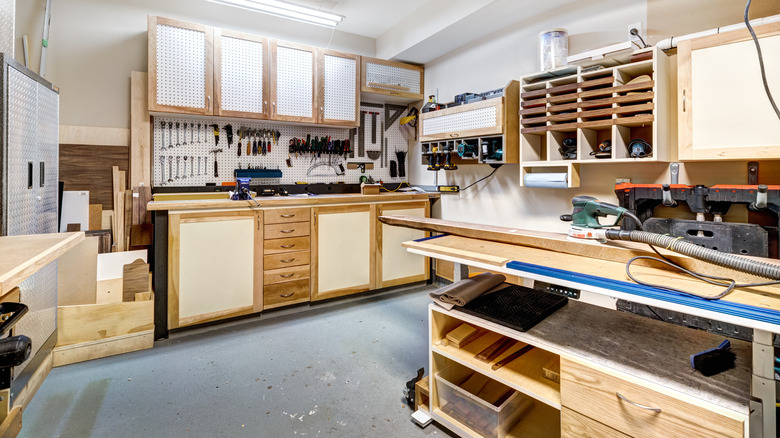 Anatoli Igolkin/Shutterstock
Storage cabinets, similar to what you'd find in a kitchen, are ideal for things you want to keep protected. In fact, if you've recently done a renovation, your old kitchen cabinets would be perfect to reuse in your garage!
7. Get a toolbox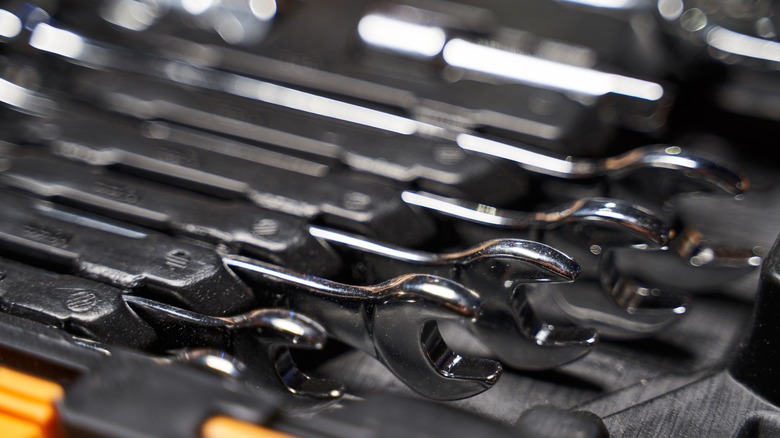 Elena_Nik/Shutterstock
If you have many tools, ensure you store them in a protected space. Having a quality spot for your stuff can help maintain these items usable for longer, like a toolbox that keeps moisture and dust off your things.
8. Create storage for sports equipment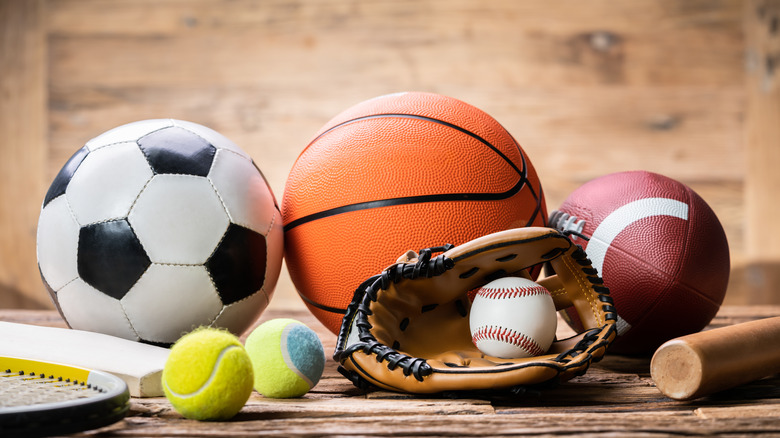 Andreypopov/Getty Images
There's a simple solution to organize sports equipment: Take a basic utility shelf and secure bungee cords at the bottom to put away your soccer or basketballs. For smaller items, clear bins would do it.
9. Clear bins for miscellaneous items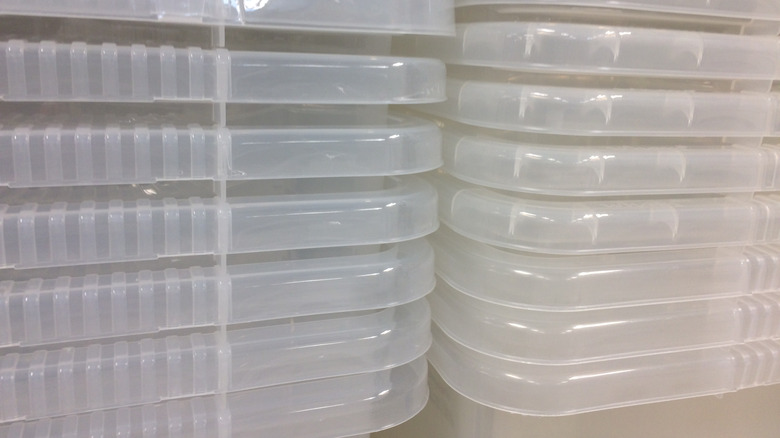 phela77/Shutterstock
Use oversized clear plastic bins to protect your items from moisture and other unsightly pests that could lurk in your garage. Since you'd be using clear containers, you'll be able to quickly find what you're looking for, which is the whole point of organizing this space.
10. Label everything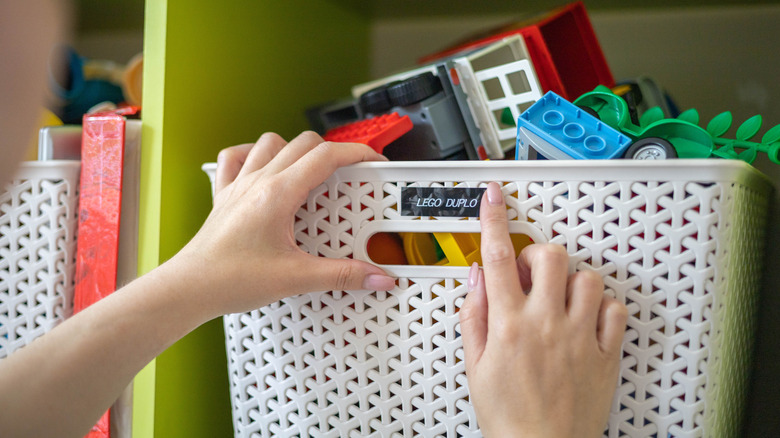 Kostikova Natalia/Shutterstock
Even if you can see all of the items in your clear bins, it's important to label everything in the garage so that you are really organized. This makes it so you can easily find everything you need faster.
11. Drawers with organizers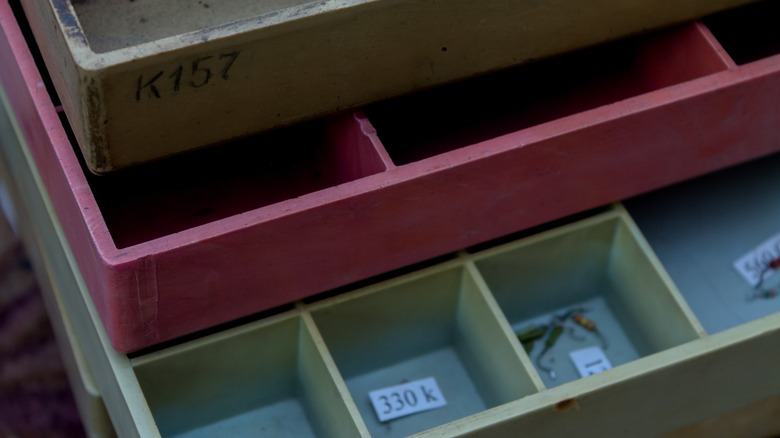 Olena Hruzyna/Shutterstock
Some of your items can be safely stowed away within drawers. But if you use a drawer organizer just like in the kitchen, you can make sure every item is in its place, so it's easier to find when you need it.
12. Hang lawn equipment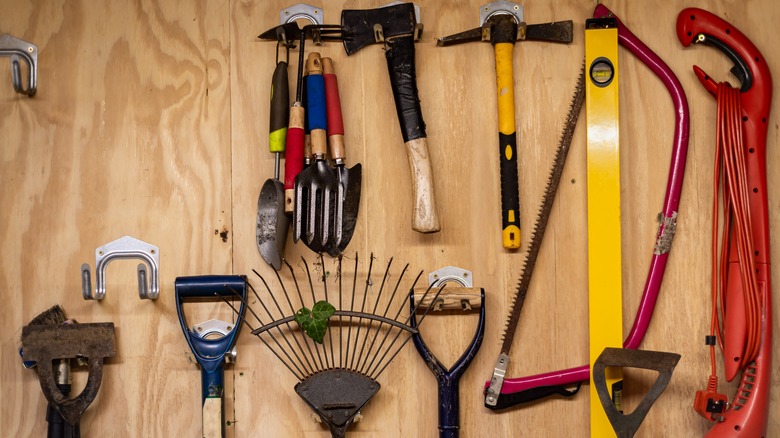 Lucy M Ryan/Shutterstock
Instead of just tossing your lawn equipment in the corner of your garage, get the most out of the space by hanging things like rakes and shovels on your wall using wall hooks. Imagine how easy it will be for you to see what you need instead of searching for it. For heavy items, use a pulley system to get them onto shelves.
13. Make use of the corners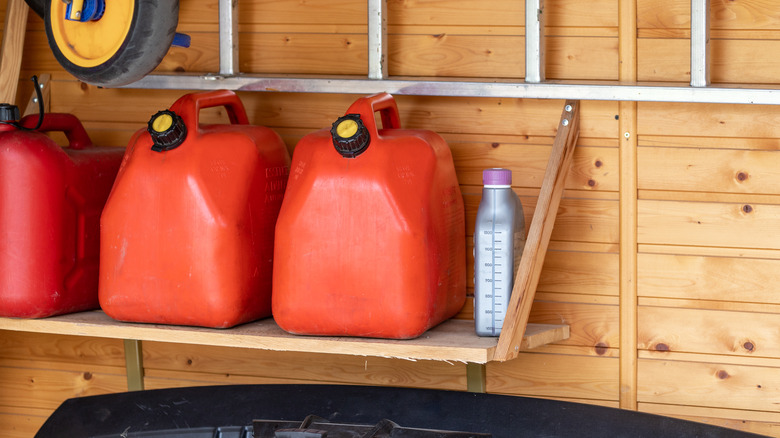 Gorloff-KV/Shutterstock
Don't forget the corner areas in your garage, so you get the most use out of the room. Corner shelving is an excellent way to store items necessary for car care.
14. Vertical storage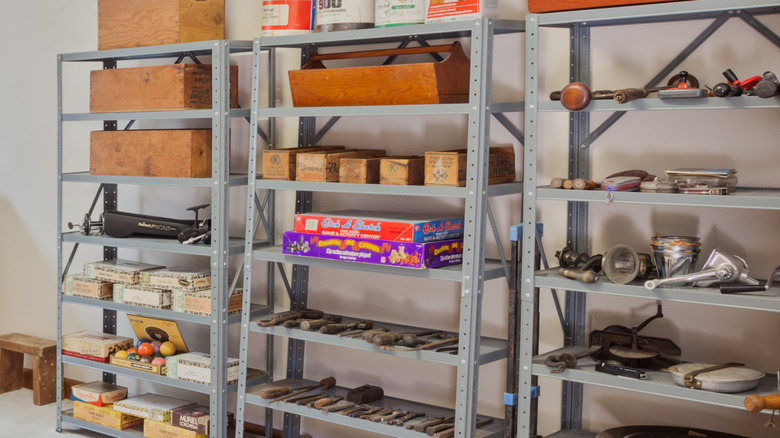 Pipas Imagery/Shutterstock
Get the most out of your garage by utilizing your walls in every way possible. This means that opting for vertical storage is a must. Consider getting hooks or vertical shelving on all the walls so you can easily maximize the space.
15. Create zones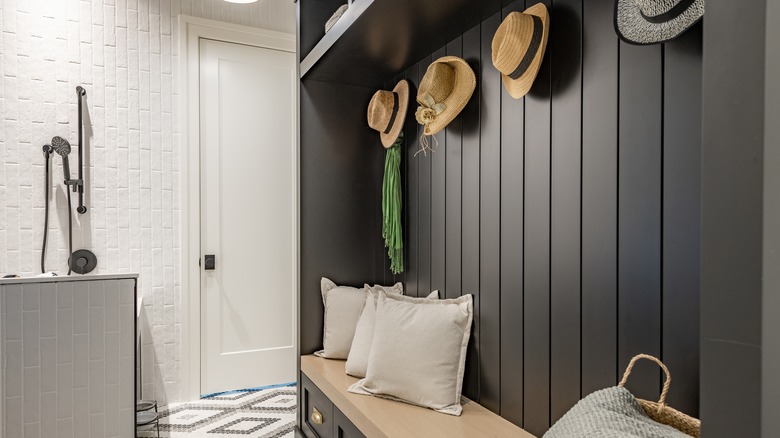 Sheila Say/Shutterstock
Creating organized areas can make a significant difference in the flow of the space. You'll want to create zones in your garage to organize it best. For instance, you can split it into six zones, from zone one's 'welcome home' area replicating a traditional mudroom to the hanging storage, which can be zone three.
16. Upcycle your furniture
Rawpixel.com/Shutterstock
Don't get rid of old furniture items. Instead, turn dressers, cabinets, or bookcases that no longer work for your home into ideal storage options for your garage.
17. Rolling workshop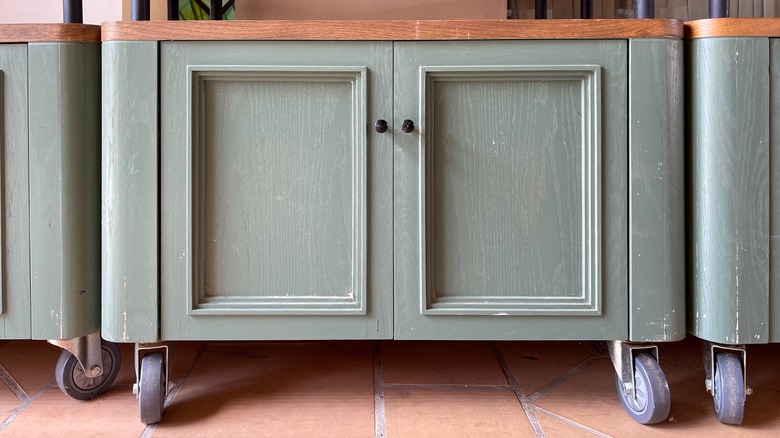 RainBoow6/Shutterstock
If you've upcycled your furniture and want to make it easier to move it around, consider adding wheels to make this feasible! If you want to use it for tools, it will make fixing different items in your garage a breeze.
18. Keep your shopping bags together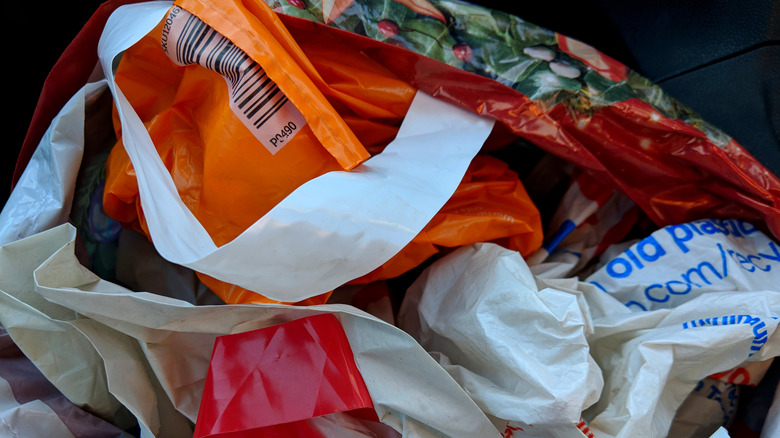 Eddie Jordan Photos/Shutterstock
Even though most of us store our shopping bags in the kitchen or pantry, a few plastic bags always end up flowing around. So, keep them in the garage in a small container and reuse them.
19. Use the ceiling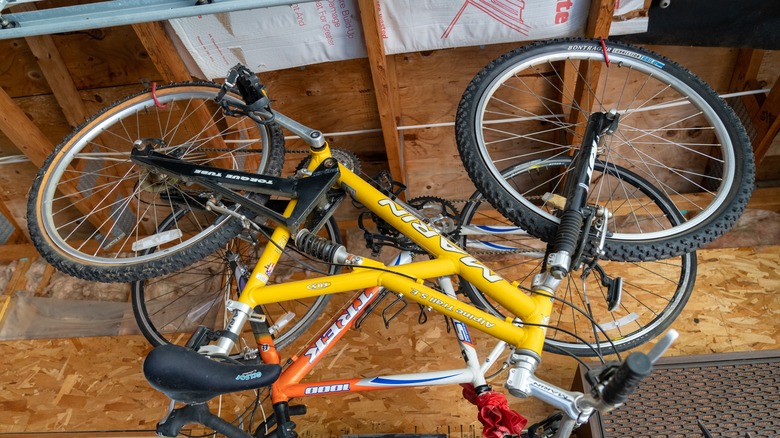 melissamn/Shutterstock
Get the most out of your storage space by utilizing your ceiling. Yes, that's right. You can install racks to hold important personal and seasonal items and sporting equipment such as surfboards or bikes. Using your garage's ceiling space makes it possible to get items off the floor and use that area differently.
20. Don't forget the garbage bins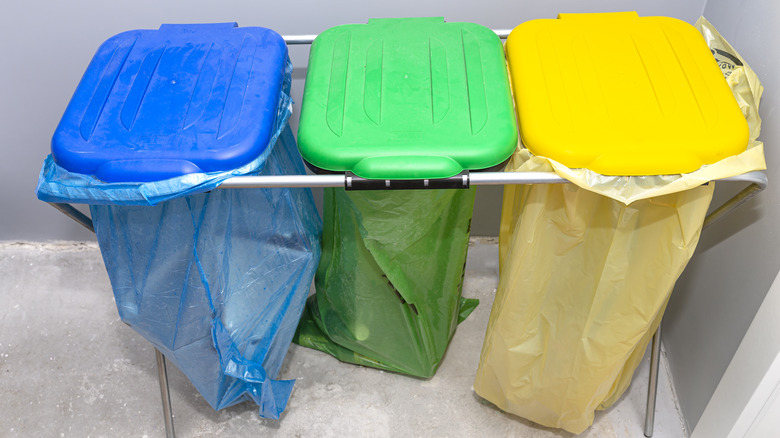 Kinek00/Getty Images
A garage needs to have garbage bins. It makes it convenient when you're cleaning out your car, so ensure you get different containers for recycling. It's a great way to clear the clutter while keeping the space neat and organized.